Home
Alpacas
> Fiber Tumbler
Contact us

Yurk's Custom Fabrication LLC

Ted's Tumbler, Version 5

© Ted Yurkon

, 2014
* * * NOTICE * * * NOTICE * * * NOTICE * * * NOTICE * * *



Effective 11/29/2014, I have decided to stop making these tumblers. Because these tumblers are hand made, it takes a very large amount of time for me to make each tumbler. I have no plans, nor ability, to start a more efficient mass production. For these reasons, and because of my age, I have made the decision to end this venture.
For the benefit of those who have purchased tumblers, I have made downloadable pdf copies of all User Guides available below.
Model 1 User Guide
Model 2 User Guide
Model 3 User Guide
Model 4 User Guide
Model 5 User Guide
Model 5.1 User Guide
Model 5.2 User Guide
All of the following information is for archival reference only.
Introduction
In the spring of 2008, my wife had been looking at fiber tumblers for tumbling the large quantity of alpaca fleece obtained from our alpacas each year. Consequently, I decided to build one for her and I was successful in building an effective, but homemade-looking tumbler. For the benefit of the do-it-yourself types out there, I posted some basic how-to instructions on my website. Click here to see the How to Build Your Own Tumbler instructions. Read on, however, to learn about the new, improved version 5 for which I have set up Yurk's Custom Fabrication LLC to custom build for those less inclined to take the do-it-yourself route. And please understand that I have made many improvements in construction technique and design since I first posted the build-your-own instructions.

Improvements to the current version include automatic timer control and a vibration and noise reducing floating motor mount. I haven't made a lot of these, but so far, buyers seem very satisfied. Here is one testimonial from a fiber mill:

The tumbler works great, the timer allows me to set a limit and return to it when I am free. I do not have to worry about over tumbling, which causes prefelting in super fine fibers. The larger tumble basket gives us a cleaner fiber at heavier loads.
Michael Longstreth
Lazy Meadows Alpacas & Fiber Mill
If you prefer, you can just sit back and watch my 17 minute video explaining the tumbler. I apologize for the length, but I'm just a slow talker. You will notice that the video is for Version 4, however, the differences are very minor. Click below to watch the video:


YouTube Video

If you are interested in reading more, you may download a comprehensive User Guide here: User Guide (PDF)

Images and Info, click on any image for full resolution:

Finished tumbler in shop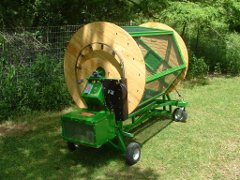 Tumbler set up in yard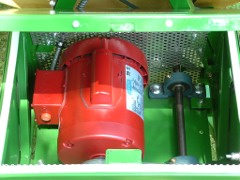 Motor box with floating motor mount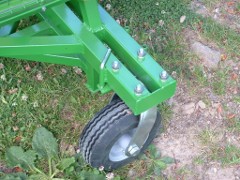 Large, soft flat-free wheels and casters with steering locks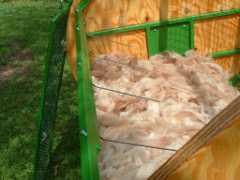 Removable fingers/pins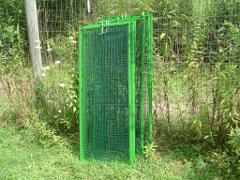 I
Interchangeable, mixable panel grid sizes, 1/2 or 1 inch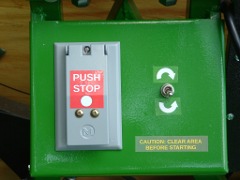 Tumbler controls with convenient Stop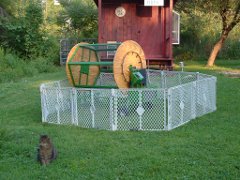 Safety fence around tumbler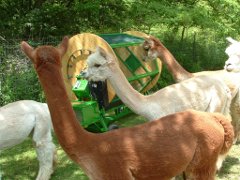 Alpacas admiring tumbler --- or looking for their coats



Specifications:


Overall dimensions (approximate): length 71.5", width 41", height 55.5"
Approximate weight: 242 lbs without panels, or approximately 292 lbs with panels installed
Cage dimensions: 47" long, 39-3/4"
max width
, 34.42"
min width

Panels Supplied: 6 panels with 1/2" grid size, and 2 panels with 1" grid size
Tumbler Fingers/Pins: 3 sets of 5 pins each, zinc plated rods, 7-1/4" length, 3/16" dia., removable
Wheels: 8", flat-free wheels, casters at non-powered end
Motor: Leeson 113256.00, 1/3 HP, 1725 RPM, reversible, TEFC

Pricing (Subject to change, contact ted@gtyurkon.com to confirm):

Note:

Please see the notice at the top of this page regarding termination of production. The following prices were those in effect at that time and are for reference purposes only.

Standard package includes tumbler with six 1/2" panels and two 1" panels, 2 non-steerable wheels, and 2 castered wheels) - $2,850
Deduct $200 to omit wheels and axle (non-portable version)
Add $37 for each additional panel
Add $120 for play yard safety fencing



Note:

The non-portable version will be drilled and equipped with bushings so wheels and casters (less steering locks) can be added later.

All tumblers are custom made. A deposit may or may not be requested when placing an order depending on the model selected and market conditions at the time. However, there is a small waiting list, first come, first served.
Contact ted@gtyurkon.com if interested.